POWER WASHING IN TOWSON, MD
With years of experience and an impeccable reputation serving Towson and Baltimore County, Maryland, we guarantee your complete satisfaction!
We Keep Homes, Schools and Businesses Sparkling Clean with Our Professional Exterior Cleaning Services in Towson.
If you live or work in Towson, MD – we are the best power washing company for you!
That's a big claim – but we back it up with our 100% satisfaction customer service guarantee.  Our focus is on delivering you the most amazing customer experience ever! That means you'll be extremely happy with our work and in the way you're treated. Our exterior cleaning services are a homeowner's dream! Your Towson home will be sparkling like it's brand new!
We also partner well with businesses. We provide commercial exterior cleaning services in Towson for cleaning buildings, apartments, school and college campuses, offices, restaurants, retail stores, restaurants, condo associations, and HOAs.
If you're looking for deep seasonal cleaning, or want to delegate the responsibility of keeping your property always looking bright and inviting, we can help. We'll create a tailored service schedule designed perfectly to meet your needs and goals.
Scheduling Exterior Cleaning Services in Towson, MD
We make this as simple as possible for you. Give us a call or fill out our quote request form and we'll follow up quickly. With just a few questions about your property and cleaning goals we can provide you with a written quote to review. If you decide to move forward, we'll assign you a scheduled date for cleaning and send convenient notifications ahead of service.
There are a lot of power washing companies out there to choose from. We stand out from the rest with our commitments to: frequent, clear communication; positive, respectiful attitudes; and a customer-centric approach to our work and your experience in using us.
Residential House Wash/Power Washing on Charles Street, Towson, MD
We provided a house wash for a single family home on Charles Street in Towson. This was a great spring-cleaning service for the homeowner.
We conducted a wash of the exterior of the entire home, including all eaves, soffit, fascia, basement steps. We applied an environmentally safe algaecide to help remove green algae growing on the house's exterior surfaces.
We are very happy with the results. Check out these photos!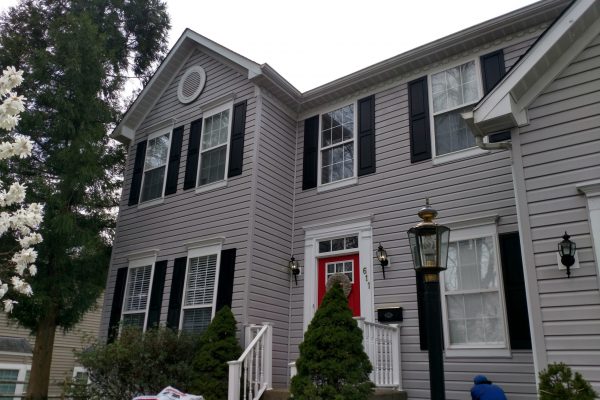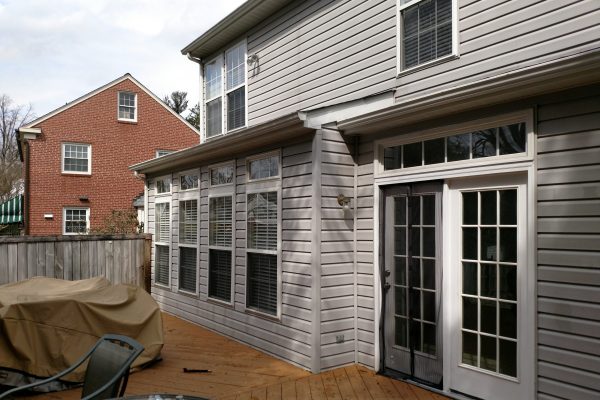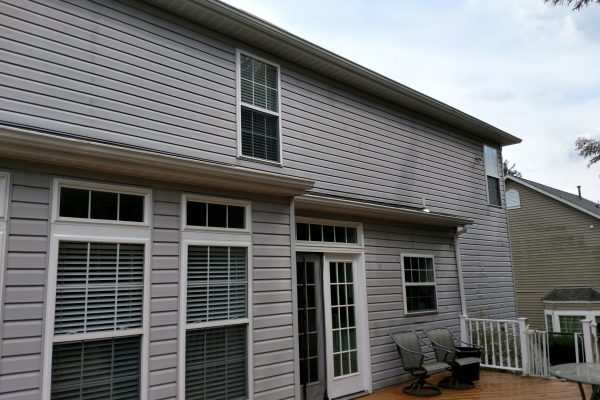 Power Washing Services in Towson, MD
In the Towson area of Baltimore County, MD we provide complete exterior cleaning services for residential and commercial customers. We can work anywhere in and around the beltway in northeastern Baltimore County. We work with many businesses along I-83, I-695 and York Road, near the Towson Town Centre, The Shops at Kenilworth, Towson University, Goucher College. Recently, we featured power washing services we provided at Loyola Blakefield. We work in residential neighborhoods like Towson Manor Ridge, Anneslie, Knollwood-Donnybrook, Loch Raven Village, Ruxton, Southland Hills, Greenbriar, Idlewylde, Hunt Crest Estates, Stoneleigh, East Towson and more.  Our cleaning services include:
Window Washing – You'll enjoy a brand new view with glistening windows after we thoroughly clean and rinse the glass, screens, frame and sill.
Surface Washing/Pressure Washing in Towson, MD – Hardscaping surfaces like decks, porches, walkways and patios will be washed and returned to bright and inviting places to enjoy the outdoors.
Roof Washing – Make your shingles and roof last much longer by eradicating destructive lichens, moss, and black streaks caused by algae.
House Washing – Unsightly green and brown films from dirt dust, algae, moss, and mold will be thoroughly cleaned from the outside of your home. We have specialized equipment for washing siding, brick and wood surfaces.
Commercial Cleaning – We provide complete exterior cleaning services for commercial properties including office buildings, school campuses, restaurants, retail stores, and apartments/condos.
Why choose Pristine Inc for your exterior cleaning needs in Towson, MD? One word: Amazing
If you are a resident of Towson, MD, you are aware of the local humid, subtropical climate. High heat and high moisture create a climate for the growth of algae, mildew, and plants that release a lot of pollen. The north (or shaded) side of your house sometimes turns green due to algae growth. Pollen, mold, dirt, dust, salt, and grime tend to accumulate on surfaces resulting in a dingy look. We offer local, full-service professional exterior cleaning services ideal to fit the needs of Towson homeowners. 
We are local to the area (commuting from Owings Mills). We've done a lot of work in Towson and are familiar with the neighborhoods and businesses. Since we're nearby, we can ascertain on-time arrivals and competitive pricing.
Many Towson-area contractors are bad at answering the phone and returning messages and questions. Not us! We go above and beyond to make sure once you experience our power washing services in Towson, you'll never consider another power washing company again.
We employ well-trained, experienced technicians who are sharp on utilizing appropriate cleaning procedures. They will use the proper tool, technique, detergent and process for cleaning the specific types of surfaces on your property. They do excellent work and you'll see it with the results.
We have provided power washing and exterior cleaning services in Towson for years. Our impeccable reputation and 5-star reviews back it up!
"We were very happy with the work that Pristine did for Loyola Blakefield and we would recommend them to all schools. Loyola Blakefield will certainly use Pristine' s services in the future."
Ken Benway | Towson, MD
⭐️⭐️⭐️⭐️⭐️
Contact us today to schedule your free quote for our amazing power washing services in Towson, MD, among other exterior cleaning services!
Does your house need a transformational professional exterior cleaning from the outside? We should be your next call.
Do you want to keep your local Towson patrons impressed and returning to your business? We can make that regular and automatic.
Contact us now! There's no risk to you to receive your free quote. We look forward to hearing from and meeting you!

A lot of companies over-promise and under-deliver, but not us!
We have made it our mission to deliver the most amazing customer experience ever! It's a bold statement, but we have the character, experience, processes and guarantees to back it up! It's important to us that you are treated with respect and delighted with every aspect of our work.
Some of our recent job locations include:
Abingdon, Towson, Timonium, Baltimore, Bel Air, Ellicott City, Pikesville, Randallstown, and Reisterstown.
Give us a call to schedule your free quote at 800-858-6208 or request one online. You will not recognize your property when we're done making it shine!