Pristine Inc. was founded by two partners in October of 2014. Michael Childress and Jeremy McDonaugh decided to combine their industry knowledge with their past business experience to create the greatest cleaning company around. 
Pristine Inc. has thrived since its inception and is continuing to grow rapidly today.  With a focus on the experience of the customer, Pristine Inc. offers the safest, most efficient and most comprehensive cleaning solutions across a variety of applications. 
We are proud of the services we provide, the care with which we treat all our employees, and the experience we deliver to every customer.
Our mission is "To deliver the most amazing customer experience ever!"
In general, across our industry there is a complete lack of care for the customer.  We work diligently in every area of our company to ensure each customer shares a similar experience, the most amazing ever!
To consistently produce quality services for each customer.
To assist every employee in achieving his or her life goals.
To assist each owner in achieving his life goals.
To become a turn-key operation which can grow, franchise, or be sold. 
At Pristine Inc, there are four values held in the highest regard:
HONESTY, HUMILITY, INTEGRITY & EFFECTIVE COMMUNICATION.
Everyone at Pristine Inc. is expected to be honest and forthright during any encounter, be it with a customer, coworker, or supervisor.  It is also expected that every person at Pristine Inc. will work diligently to clearly communicate all pertinent information in a timely fashion.  Finally, every member of the Pristine family is expect to be above reproach when it comes to their decision making; when you never make the exception, you never have to justify your actions. At Pristine Inc, we truly believe that with honesty, humility, integrity and effective communication all obstacles can be overcome!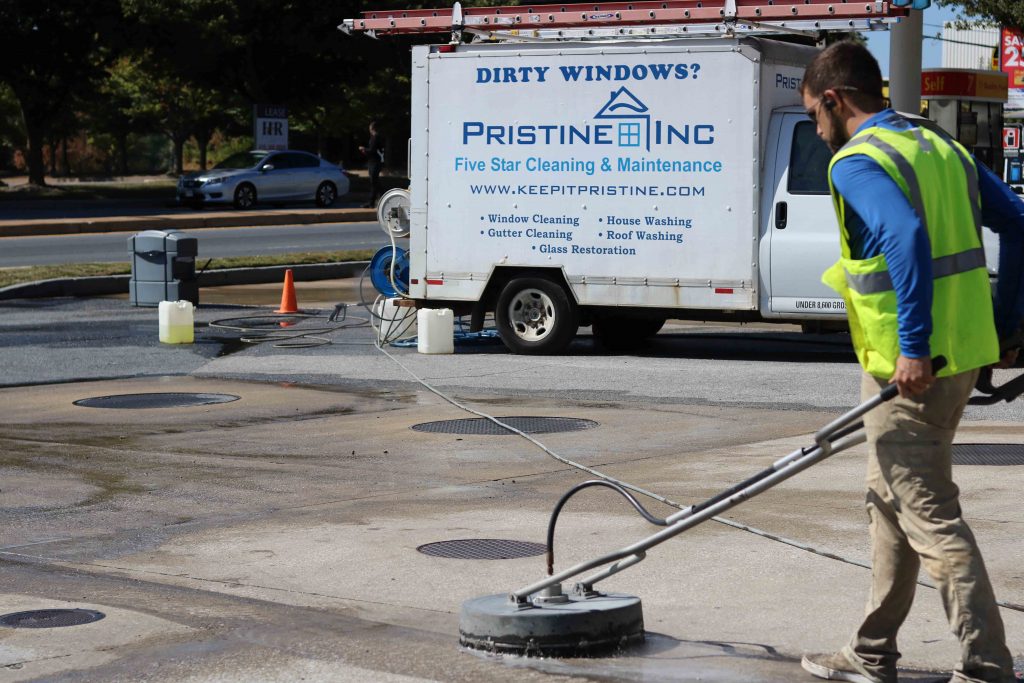 Schedule your free quote!
Free. Scheduled conveniently around your calendar.

A lot of companies over-promise and under-deliver, but not us!
We have made it our mission to deliver the most amazing customer experience ever! It's a bold statement, but we have the character, experience, processes and guarantees to back it up! It's important to us that you are treated with respect and delighted with every aspect of our work.
Some of our recent job locations include:
Abingdon, Towson, Timonium, Baltimore, Bel Air, Ellicott City, Pikesville, Randallstown, and Reisterstown.
Give us a call to schedule your free quote at 800-858-6208 or request one online. You will not recognize your property when we're done making it shine!