ACADEMIC CLEANING SERVICES IN MARYLAND
With years of experience and an impeccable reputation cleaning academic campuses and educational facilities, we guarantee your complete satisfaction!
Your School Will Earn an A+
Your academic staff labors hard to educate the current generation of bright, young students. Make them proud to step onto a sparkling clean academic campus with fresh white sidewalks, glistening windows and a bright building. Whether you are a small private school, or a large university, we can provide tailored cleaning services for academic campuses.
Over the course of the year, concrete and brick tend to develop a dingy look. Heavy traffic areas show marks and streaks from shoes, bikes and vehicle tires. Shaded areas around the building create an environment for growth of green or black algae. We can help restore the exterior of the campus making the first impression of the campus attractive, impressive and inviting. We can maintain concrete, brick, metal and glass surfaces all around campus.
Our work doesn't end at the educational side of campus. We are also equipped to wash athletic stadiums, outdoor bleachers, and playground equipment. That includes removal of gum, soda and other stuck-on grime so your seating areas are well maintained and welcoming. We can also address loading docks, cafeterias and other areas with grease accumulation.
Maintaining these surfaces will also extend the life of these surfaces for cost-savings in the future. Working with one of our dedicated project managers, you will talk to a single point of contact for coordinating daily and project-specific cleaning needs. We also update the point-of-contact daily with progress updates and plan adjustments.
Pressure Washing for School Events
We offer pressure washing and exterior cleaning services to help you prepare for a major event and to keep the campus clean on a regularly-scheduled basis.
Do you have an upcoming graduation ceremony? We would be happy to schedule a thorough cleaning of the campus to ensure that parents and other visitors note the remarkable, well-kept condition of the facilities.
Hosting a large gathering or event? Whether you are hosting a fundraiser, alumni gathering, Homecoming, Prom, class reunion, athletic competition or other type of event, we will have the campus looking renewed and pristine to honor those visitors to the school.
Do you have prospective students visiting the campus? We understand that prospects can come tour the school at any time. Making a great impression on these students is extremely important in their selecting your school or college. Because of that, it is important to have the campus continuously clean. We offer regularly scheduled, automatic cleaning services so that you never have to worry about the condition of your facilities.
Get Your Free Quote Today!
Scheduling Cleaning of Academic Campuses
School campuses are busy places. There might be athletics, concerts, dances and other academic events taking place throughout the school year on top of daily classes. We are happy to work around your schedule so your school is cleaned at the most optimal time for the academic calendar.
That means we go above and beyond to ensure that foot traffic in and out of the buildings is never impeded. We demarcate work areas so that everyone can remain safe – both students and staff. Because work in a conscientious and considerate way, regular academic and athletic activities are not disrupted.
When you contact us to discuss your cleaning needs, please feel free to share the schedule and any constraints you'd like us to work around.
Featured College Campus We've Cleaned
Loyola Blakefield | Towson, MD
We provided exterior cleaning services on the campus of Loyal Blakefield college in Towson, MD. Included in our services was a wash of lamp post banners, the retaining wall along the football field, and a wash of the Knott Hall Building (walls, eaves, soffit, fascia).
The Loyola basketball league had a game at 3:00 pm the day we were scheduled to clean the college. Because of that we coordinated with the facility manager to ensure we would complete cleaning and be offsite by 2:00 pm to avoid impacting any traffic.
When we were done the campus looked great and welcoming to students, athletes and football fans visiting the campus.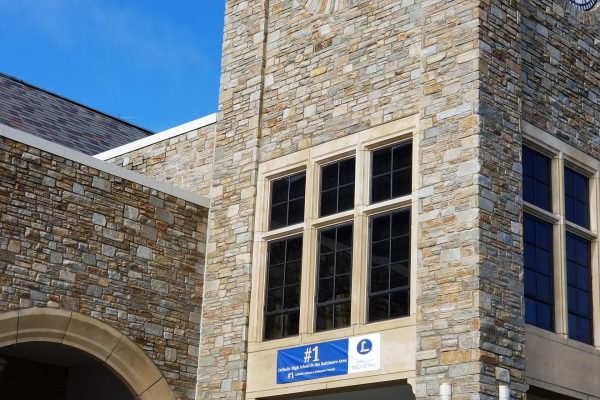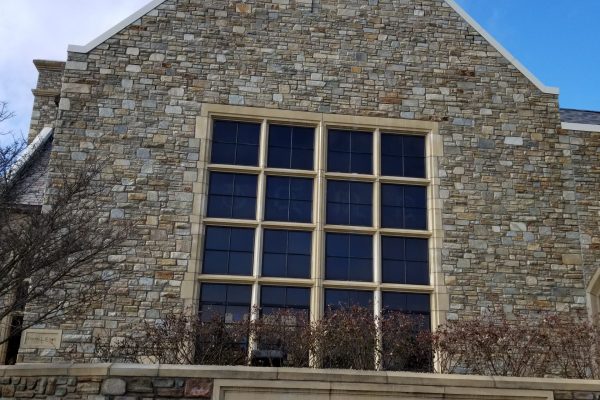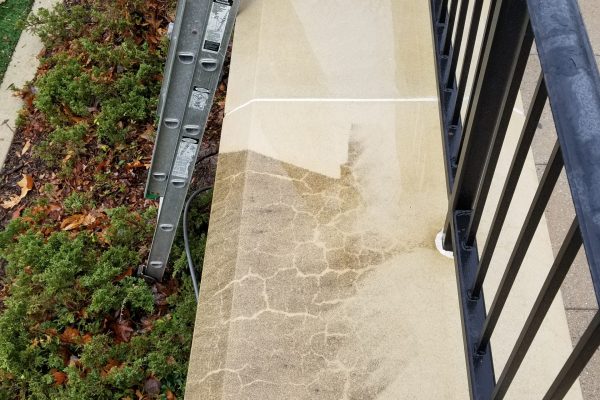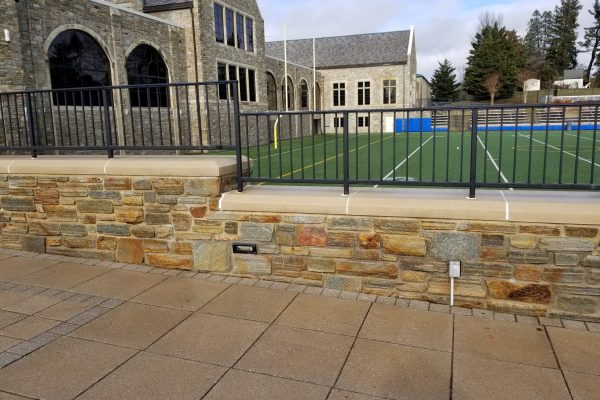 Power Washing for Academic Campuses
Roof Washing – We will renew the roofs, canopies, and overhangs of academic buildings by removing damaging moss and lichens and black streaks caused by algae.
Building Washing – Our pressure washing equipment removes algae and mold that grow on siding, concrete, and brick making them look dark and dingy.
Window Washing – We thoroughly wash the windows of the buildings on campus to ensure they are clear, shining and free of streaks.
Surface Washing – Our meticulous processes restore walkways, sidewalks, decks and patios, to bright and welcoming finish with a thorough warm-water scrubbing.
Athletic Fields and Stadiums – We can clean athletic facilities, field houses, bleachers, dugouts, signs, banners and playground structures making them sparkle ahead of the big game.
Here's Why We're Different from the Rest
If you are a facility manager for a school, you already have a full plate of work to deal with. We will ease your workload and provide peace of mind knowing your exterior cleaning projects will be done on schedule and correctly the first time! Then, maintenance staff can also stay focused on their regular repairs and maintenance projects.
Customer Service. Pristine Inc is not like the other pressure washing companies. We make customer experience paramount in the way we operate our business. Guided by years of experience, we couple character and detailed, defined processes to ensure you are absolutely ecstatic with the results you get with us.
Professional Technicians. Our technicians are well-trained and experienced. They know what chemicals, equipment and processes to use to fully clean every surface they encounter on your school grounds. That means you can rest easy knowing your property is going to be cleaned properly.
Communication and Flexibility. We are happy to work with your calendar to meet your cleaning objectives on your time table. In order to do that we are committed to early and frequent communication to share updates and adjustments.
Excellent Reputation. We have been serving the Baltimore area since our founding. We have an impeccable reputation with multiple 5-star reviews to back it up!
"We were very happy with the work that Pristine did for Loyola Blakefield and we would recommend them to all school. Loyola Blakefield will certainly use Pristine's services in the future."
Kenneth Benway | Towson, MD
⭐️⭐️⭐️⭐️⭐️
Contact us today to schedule your free quote!
Looking to make a fantastic impression for visitors on campus? We can help with a thorough deep-clean that renews and refreshes every single surface on school grounds.
Need help keeping up with a regular cleaning schedule? We can make exterior cleaning automatic and effortless for you with ongoing scheduled services.
Call us today for more information about this or any of our other commercial cleaning services. You may reach us at 800-858-6208 or fill out a quote request online. There's no risk to you to receive your free quote. We look forward to hearing from you!

A lot of companies over-promise and under-deliver, but not us!
We have made it our mission to deliver the most amazing customer experience ever! It's a bold statement, but we have the character, experience, processes and guarantees to back it up! It's important to us that you are treated with respect and delighted with every aspect of our work.
Some of our recent job locations include:
Abingdon, Towson, Timonium, Baltimore, Bel Air, Ellicott City, Pikesville, Randallstown, and Reisterstown.
Give us a call to schedule your free quote at 800-858-6208 or request one online. You will not recognize your property when we're done making it shine!