POWER WASHING IN PIKESVILLE, MD
With valuable experience and a fantastic reputation delivering power washing services to Pikesville, MD, we guarantee your complete satisfaction!
Keeping Pikesville Looking Sharp
Exterior Cleaning Services in Pikesville, MD
Whether you reside or work in the Pikesville area of Baltimore County, MD, you value a well-kept appearance to your property. And chances are, you prefer to work with an experienced, reliable pressure washing company who treat your time and property with respect.
With our emphasis on building strong customer relationships, you will be impressed with the service and professionalism we deliver!
An Amazing Customer Experience
The word "amazing" means startlingly impressive. We mean what we say, when we promise that, from the time you call, schedule, and have pressure washing services conducted, you will be impressed at every step of the experience.
That means: we communicate well, we do what we say we're going to do, and we get the job done right the first time.
Featured Power Washing Servicing in Pikesville, MD
Residential House Wash | Kalton Ct, Pikesville, MD 21208
Check out these before and after photos of our exterior cleaning services in Pikesville, MD!
We provided a complete soft wash of a home in Pikesville. That included the windows, eaves, soffits, front porch and walkway. We also power washed the brick walkway and concrete steps behind the home. Finally, we finished by soft washing the fencing and gate in the back yard. 
You can see the dramatic difference as algae, dirt and mildew have been washed away, restoring these surfaces to their original bright color. The homeowner was delighted with the results!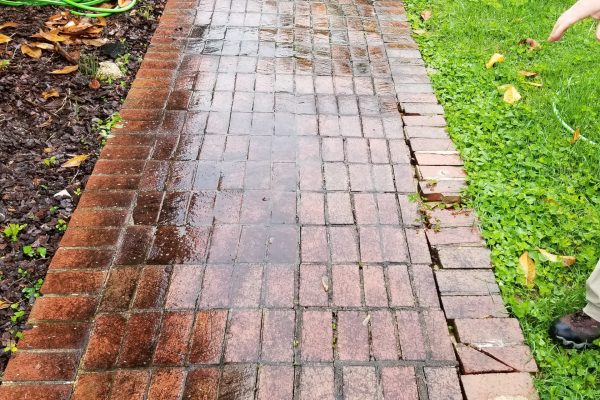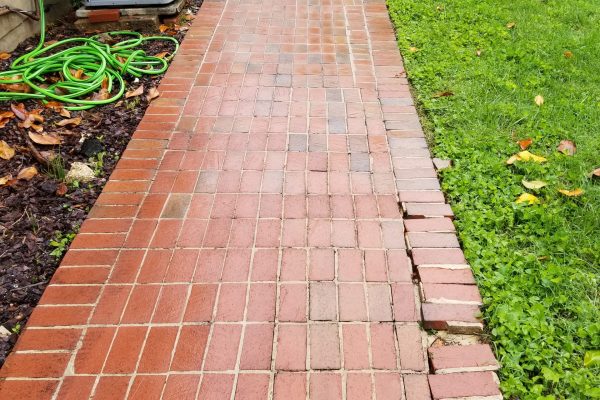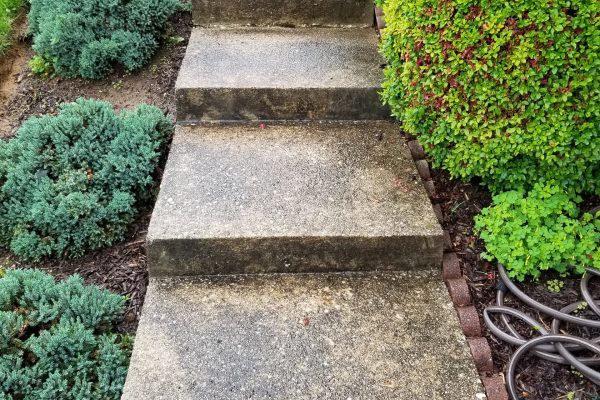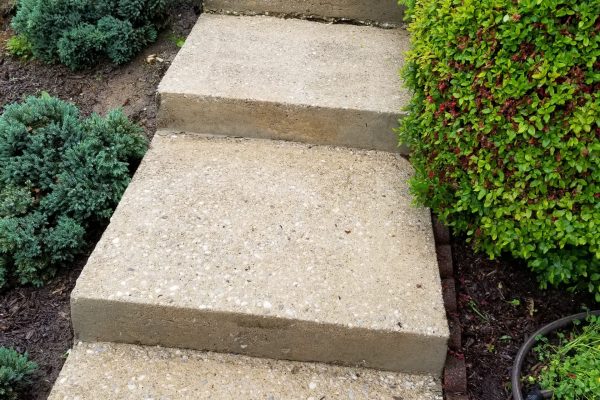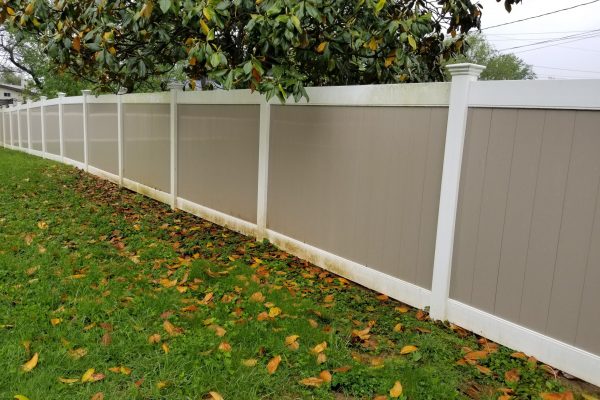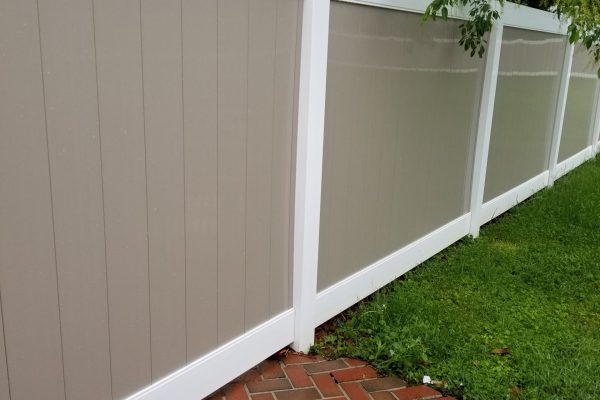 Power Washing Services in Pikesville, MD
We provide exterior cleaning services in Pikesville, MD. We can work anywhere along the I-695 Baltimore Beltway, Park Heights Avenue, Milford Mill Rd, Mount Wilson Lane, Old Court Rd, Reisterstown Rd, Seven Mile Lane, Slade Ave, Smith Ave, Stevenson Rd, and Sudbrook Lane. We serve neighborhoods such as Stevenson/Canterbury Estates, Long Meadows Estates, Mount Wilson, Ralston, Belle Farm Estates, Oakland Park, Sudbrook Park, Villa Nova, Scotts Level, and Town Center, among others.
Our Exterior Cleaning Services in Pikesville, MD Includes:
Window Washing – Look through a crystal clear windows free of dust, streaks, and spots with our interior and exterior window washing service.
Surface Washing –  Enjoy your outdoor decks, porches, walkways, and patios (any type of concrete, wood, and brick surfaces) that will be free of green and black algae and dirty for a welcoming appearance with our power washing services in Pikesville, MD.
Roof Washing – Preserve the life and integrity of your roof with a roof cleaning that destroys damaging algae, mildew, and lichens that break down your shingles.
House Washing – Dust, algae, and atmospheric particles collect on siding, making it look dingy and dirty. We can clean every square inch of your siding, soffits, and facia to restore your home to its natural brightness. 
Commercial Cleaning – Businesses and large scale properties like apartments, condos, academic campuses, office buildings, restaurants and retail strips enjoy the set-it and forget it services knowing we're cleaning their property on regular scheduled visits.
We Are a Property Manager's Best Friend With Our Exterior Cleaning Services in Pikesville, MD
Customers are difficult to obtain and easy to lose. We keep your business always presenting a welcoming, maintained appearance for your customers and visitors.  We are able to work around scheduling needs so your business and traffic will not be adversely impacted while cleaning services are provided. Our ability to offer complete and full service exterior cleaning means we can take care of any issue with just one phone call.
Scheduling Power Washing Services in Pikesville, MD
Our process is efficient and quick. Just give us a call or fill out our online quote request form and we'll call you back right away. We will ask you a few questions about your cleaning needs and goals. If needed we'll schedule an on-site assessment of your property.
We'll send you a written quote to consider. Once approved, we'll work with you to schedule a day for our exterior cleaning services in Pikesville, MD to be conducted.
You won't fall through the cracks. You won't have to call us ten times. We communicate promptly and thoroughly so you get the best possible customer experience. You'll be treated with the politeness and respect you deserve.
Our 100% Satisfaction Guarantee ensures your complete happiness in working with us!
The Last Pressure Washing Company You'll Want to Work with For Power Washing Services in Pikesville, MD
Humid, hot summers and wet winters produces conditions for algae and mildew growth in Pikesville. Our pressure washing services are customized for people who need a seasonal or annual cleaning to keep their property looking good.
Contractors are infamous for no shows, no call-backs, and leaving the job with work unfinished. Not us! We worry about the details and customer communication so you are taken care of.

With just a short drive from our office, we can be at your property in Pikesville for exterior cleaning services in a few minutes.

Our technicians have been trained in the correct process, techniques and tools for cleaning every type of service. They go above and beyond to make sure your plants, furniture, and decorations are all protected and returned to the right place once the work is done.
We've got proof of our excellent work and customer relationships with our numerous 5 star reviews!
"Great Company that does great work! Very friendly and reachable! Thank you very much Pristine Inc."
Andrew Rosenfeld | Pikesville, MD
⭐️⭐️⭐️⭐️⭐️
Contact Us Today for Exterior Cleaning Services in Pikesville, MD!
Need to restore your home's appearance to a clean and inviting look? We'd be happy to partner with you for a complete property wash.
Do you want keep your Pikesville business primed for customer visits? We can provide peace of mind and a shorter to-do list with exterior cleaning services.
Call us today at 800-858-6208 or fill out a quote request online for power washing services in Pikesville, MD. There's no risk to you to receive your free quote. We look forward to hearing from and meeting you!

A lot of companies over-promise and under-deliver, but not us!
We have made it our mission to deliver the most amazing customer experience ever! It's a bold statement, but we have the character, experience, processes and guarantees to back it up! It's important to us that you are treated with respect and delighted with every aspect of our work.
Some of our recent job locations include:
Abingdon, Towson, Timonium, Baltimore, Bel Air, Ellicott City, Pikesville, Randallstown, and Reisterstown.
Give us a call to schedule your free quote at 800-858-6208 or request one online. You will not recognize your property when we're done making it shine!