POWER WASHING IN TIMONIUM, MD
With years of experience and an impeccable reputation serving Timonium and Baltimore County, Maryland, we guarantee your complete satisfaction!
Keeping Homes, Schools and Businesses in Timonium Bright and Clean!
If you live or work in Timonium, MD – we are the best power washing company for you!
That's a big claim – but we back it up with our 100% satisfaction customer service guarantee. Our focus is in delivering you the most amazing customer experience ever! That means, you'll be extremely happy with our work and in the way your'e treated. Our services are a homeowner's dream! Your Timonium home will be sparkling like it's brand new!
We also partner well with businesses. We provide commercial services for cleaning buildings, apartments, school and college campuses, offices, restaurants, retail stores, restaurants, condo associations and HOAs.
If you're looking for a deep seasonal cleaning, or want delegate the responsibility of keeping your property always looking bright and inviting, we can help. We'll create a tailored service schedule designed perfectly to meet your needs and goals.

Scheduling Power Washing Services
We make this quick and easy you. Give us a call or fill out our quote request form and we'll contact you immediately. We'll ask some questions about the features of your property so we can understand your needs and goals. If needed, we will stop out to provide a complimentary site assessment to make sure we know exactly what you want to get done. We'll then provide you a free written quote to review. Once approved you'll receive a scheduled day for cleaning and courtesy notifications in advance of the service date.
You'll get a frustration free, amazing experience, with delightful results. We offer a 100% satisfaction guarantee to all our residential and commercial customers in the Timonium area. You'll be happy with every step of the process from the first call to our final follow-up.
Featured Timonium Property
Martin's Valley Mansion | Cranbrook Rd, 21030
We provided a commercial cleaning at the Martin's Valley Mansion in Baltimore County, MD. Services included cleaning all entrances and sidewalks, application of a degreaser, removal of gum and deep stains, cleaning curb faces, and wiping benches and tables clean.
Check out the dramatic transformation of this sidewalk before and after the concrete cleaning!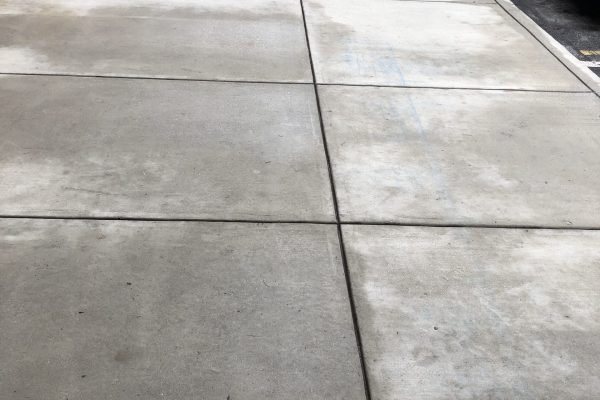 Power Washing Services in Timonium, MD
In the Timonium area of Baltimore County, MD we provide full-service exterior cleaning services. We can work anywhere along Deereco Road, Greenspring Drive, Dulaney Valley Road, Pot Spring Road, Timonium Road, York Road (MD-45), Padonia Road, Mays Chapel Road, Eastridge Road, and Ridgely Road.
Our Exterior Cleaning Services:
Window Washing – Goodbye, dirty windows! You'll enjoy crystal clear glass along with clean frames, sills and screens.
Surface Washing – Your outside decks, porches, walkways and patios (all types of concrete, wood and brick surfaces) will be washed and brightened so you can fully relish outdoor living.
Roof Washing – Protect your shingles and extend the lifespan of your roof by removing destructive lichens, moss and unsightly algae streaks on the roof.
House Washing – That dingy look from dirt, dust, algae, moss, and mold will be gone. With a thorough cleaning of your siding and exterior features, your home will pop with a bright, sparkly shine. We have specialized equipment, nozzles, and detergents for all types of surfaces.

Commercial Cleaning – We offer full service exterior cleaning for commercial properties such as apartments, condos, academic campuses, office buildings, restaurants and retail strips.

Why choose Pristine Inc? The Crystal Clear Differences:
If you are a resident of Timonium, MD, you know how hot it can get in the summer, and how intense the rain storms can be. Heat and humidity combined tends to create an environment for algae, mold and mildew growth and a seasonal wave of pollen. Those who live on wooded properties also may know how shady areas also promote growth of green/black algae on siding and sidewalks. Our services are designed especially to address those kinds of exterior cleaning needs.
We serve many cities around the I-695 and I-83 corridor. With just a short drive from Owings Mills, you'll never have to wait or pay for a long commute time.
Many contractors in the Baltimore area have a bad reputation for not picking up the phone, not providing a written quote, schedulling delays and not returning calls. Not us. We go above and beyond to make sure you are treated well while getting the results you are looking for.
Our experienced technicians are on point. They are all well trained in proper cleaning techniques and tools for each type of surface they're working on. We require them to take their time to get the job done right and ensure complete customer satisfaction the first time.
We've been delivering power washing services to homeowners and business owners in the Timonium area for years. We have the 5-star reviews and local testimonials to prove it!
"Both men were very knowledgeable, friendly and answered all my questions or concerns."
[Review Rating 10 out of 10]
Bonnie Johnston | Timonium, MD
⭐️⭐️⭐️⭐️⭐️
Contact us today to schedule your free quote!
Ready to totally transform your property from dingy to bright? We are the perfect solution for that.
Do you want keep your Timonium business consistently spotless for customers? We can take away all exterior cleaning stresses for your peace of mind.
Contact us now! There's no risk to you to receive your free quote. We look forward to hearing from and meeting you!
A lot of companies over-promise and under-deliver, but not us!
We have made it our mission to deliver the most amazing customer experience ever! It's a bold statement, but we have the character, experience, processes and guarantees to back it up! It's important to us that you are treated with respect and delighted with every aspect of our work.
Some of our recent job locations include:
Abingdon, Towson, Timonium, Baltimore, Bel Air, Ellicott City, Pikesville, Randallstown, and Reisterstown.
Give us a call to schedule your free quote at 800-858-6208 or request one online. You will not recognize your property when we're done making it shine!