GOVERNMENT BUILDING CLEANING SERVICES IN MARYLAND
Contact us today for exterior cleaning services for government buildings!
With years of experience and an impeccable reputation cleaning local and county government buildings, we guarantee your complete satisfaction!
Create a Welcoming Appearance for Your Staff and Local Community
Keeping local government services running is no easy task. With a plethora of people in and out from the local community—plus the phone ringing off the hook—these government buildings are bustling.
It is important that your staff stay focused on their priorities in order to move people through and deliver services in a timely and orderly manner. That includes providing them with a welcoming and clean building to work in and providing patrons in the community the same pleasant experience.
Your property can look great 24/7, so you never have to worry about it – and we can help!
What You Can Expect with Our Government Building Cleaning Services in Maryland
We offer government building cleaning services in Maryland including pressure washing and exterior cleaning services to help your building stay clean through every season of the year. That means:
Squeaky clean and shining windows with all frames wiped clean
Bright white concrete sidewalks, steps and walkways
Clean bricks and walls for an attractive, sharp look
Removal of any nasty gum spots that accumulate
Fresh smelling, clean exterior trash bins and receptacles
Spotless walls and siding free of dingy algae, mildew and dirt
A roof and gutters free of dark streaks and stains
Government building cleaning services in Maryland can be done at a regularly occurring schedule that is convenient to your operations and foot traffic and not at all disruptive to your hours of service.
Get Your Free Quote Today!
Scheduling Cleaning Services for Government Buildings
Government buildings are busy places. There are a lot of people in and out all throughout the day, and often meetings and events in the evening.
We are happy to work around your schedule so your building is cleaned at the most optimal time for you. That means we go above and beyond to ensure that foot traffic in and out of the buildings is never impeded. We demarcate work areas so that everyone can remain safe – both visitors and staff.
Because we work in a conscientious and considerate way, regular activities are not disrupted. Simply call us directly or fill out a contact form to request your free consultation on our government building cleaning services.
Featured Government Building We've Cleaned
Harford County Circuit Court | Bel Air, MD
We provide exterior cleaning for government buildings services on the property of the Harford County Circuit Court in Bel Air, Maryland.
Included in those exterior government building cleaning services is the cleaning of the windows. That involves a spot-free cleaning with a powerful detergent followed by a streak free-rinse.
Additionally, all frames and sills are wiped clean of accumulated dirt, debris, and pollen. This is especially helpful during the spring when flowers and trees are blooming, emitting sticky pollen that adheres to the windows.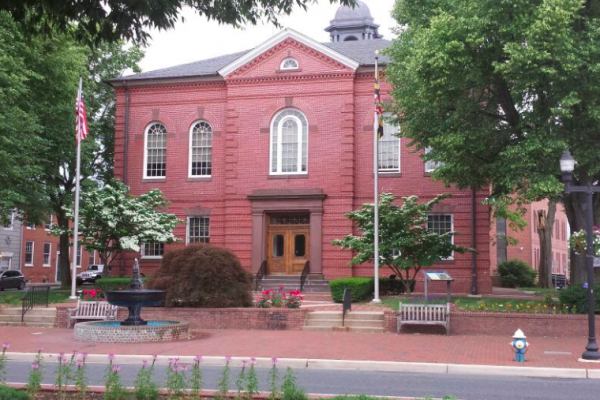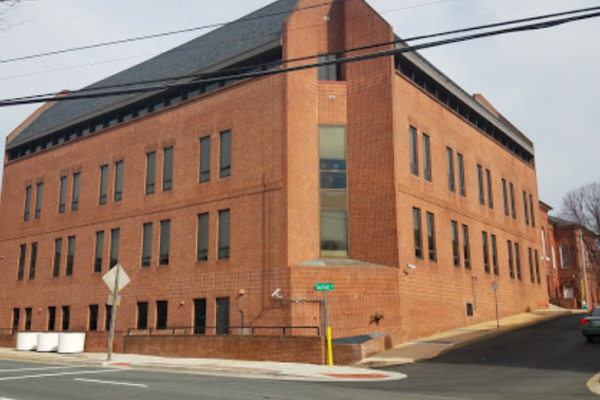 Services Available for Exterior Cleaning of Government Buildings in Maryland
Roof Washing – We will renew the roofs, canopies, and overhangs of government buildings by removing damaging moss and lichens and black streaks caused by algae.
Building Washing – Our pressure washing equipment removes algae and mold that grow on siding, concrete, and brick making them look dark and dingy.
Window Washing – We thoroughly wash the windows as part of the exterior cleaning of government buildings to ensure they are clear, shining and free of streaks.
Surface Washing – Our meticulous processes restore walkways, sidewalks, decks and patios, to bright and welcoming finish with a thorough warm-water scrubbing.
Sanitization Services – We offer interior sanitization spray fogging services and treatments to help battle viruses, bacteria and other microbes.
How We Stand Out from the Rest
If you are a building manager for a government building, you have a lot of work, and a lot of people to deal with. We will ease your workload and provide peace of mind knowing that the exterior cleaning of your government building will be done on schedule and correctly the first time! Then, maintenance staff can also stay focused on their regular repairs and maintenance projects.
Customer Service: There are a lot of government building cleaning services companies out there. Pristine Inc is not like the rest of the pack! We make our customer's experience the most part of our business operations. With years of experience, we base everything we do on values that mean you get treated well and get excellent results.
Professional Technicians: Our technicians are well trained in government building cleaning services and know exactly how and where to use each tool and cleaning agent for the best results. You can rest easy knowing the exterior cleaning of your government building is going to be cleaned right the first time by an experienced professional.
Communication and Flexibility: We are happy to work around your schedule and constraints to deliver the best exterior government building cleaning services possible. We communicate frequently through one point of contact to provide any informational updates and adjustments. And yes, we do pick up the phone when you call!
Excellent Reputation: We have been serving government building cleaning services in the Maryland area since our founding. Like our windows, we have a spotless reputation with 5-star reviews to prove it!
Contact us today to schedule your free quote for exterior cleaning services for government buildings!
Looking to make a fantastic impression on the community? We can help with a thorough deep-clean that brightens every single square inch of glass and hard surface on the building. 
Call us today for more  information about this or any of our other government bulding cleaning services in Maryland.  You may reach us at 800-858-6208 or fill out a quote request online. There's no risk to receive your free quote on exterior cleaning services for government buildings. We look forward to hearing from you!

A lot of companies over-promise and under-deliver, but not us!
We have made it our mission to deliver the most amazing customer experience ever! It's a bold statement, but we have the character, experience, processes and guarantees to back it up! It's important to us that you are treated with respect and delighted with every aspect of our work.
Some of our recent job locations include:
Abingdon, Towson, Timonium, Baltimore, Bel Air, Ellicott City, Pikesville, Randallstown, and Reisterstown.
Give us a call to schedule your free quote at 800-858-6208 or request one online. You will not recognize your property when we're done making it shine!